===>Belt and Road Initiative revitalizes New Zealand's small town[field]===>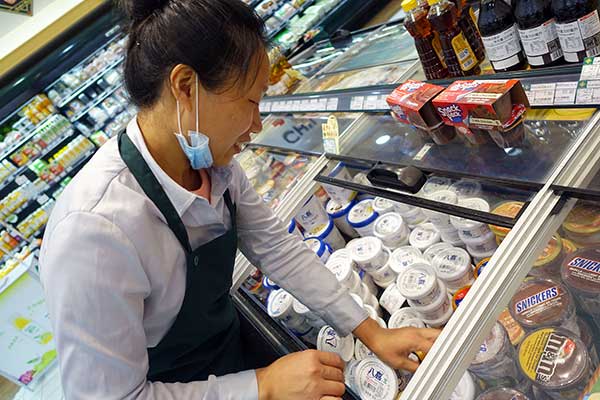 A worker puts boxes of Baxi ice cream in a refrigerator at a BHG supermarket in Beijing. [Photo by Wang Zhuangfei/China Daily]

WELLINGTON - Lorrayne is a Maori woman in the North Island town of Kerepehi who witnessed the prosperity and decline of the town.

After the closure of the Kerepehi cheese factory, the economic pillar of the town, Lorrayne's neighbors lost their jobs. Many families, including Lori's family, are unsustainable. People applied for government subsidies, or left their homes to make a living, so the population has flowed out for many years. Lori and her friends felt hopeless and desperate. However, with the arrival of a food company from China, Lorrayne saw hope.

Lorrayne said, "When I first came here three years ago, we had no machines. So watching everything get put together has been amazing. In my life. I'm from here, from Kerepehi. The factory bring big changes to the local, I think. When they (old factories) were closed, a lot of families moved away. So now we've got a lot coming back home and working here, and it's good."

The arrival of the Chinese investment has brought a new life to this century-old cheese factory, and 50 full-time jobs have sowed seeds for the new dreams of 50 families.

Baxi is a brand of Beijing Capital Agricultural Group's Allied Faxi Food Company, and the ice cream series products are sold well in Beijing, Shanghai and many other Chinese cities. Arthur Yan, general manager of Ailei New Zealand, said that the first factory of Baxi was located in Beijing and the second factory was located in Shanghai. The New Zealand plant, built in the deserted cheese factory, is its third factory, which uses locally sourced milk and hire local employees.

"Quality ice cream comes from high-quality ingredients," Yan said, "New Zealand was chosen because the air and water is among the purest on earth and the dairy industry is world-leading. The factory is equipped with the best quality milk, cream and fruit resources in New Zealand. The 50 employees of the factory are all locally."

On Sept 26, 2016, New Zealand's Baxi factory was put into production. Some people saw the busy production plant on the assembly line, and they could not help but shed tears. Their childhood memories were connected with the century-old factory, and the rebirth of the old factory also means a new economic pillar for the town.

After extensive experimental testing and continuous formulation improvement, the New Zealand Baxi factory has produced three kinds of classic ice creams of vanilla, double raspberry and chocolate, under the brand of G'nature. In May 2018, at the "22nd International Ice Cream Contest" held in New Zealand, G'nature's double-berry flavor and super chocolate-flavored ice cream won the Gold and Silver Awards seperately.

In the international ice cream market, the ice cream is also a blockbuster, letting the world have a taste of a high quality ice cream from a Chinese firm and made in New Zealand, Yan said.

A year after, G'nature ice cream was launched in China's Shangchao and catering outlets, China's first G'nature flagship store opened on Nanjing Road in Shanghai's CBD. New Zealand's consumers can buy G'nature ice cream at local supermarkets.

Because the products are sought after by the market, the company achieved profitability in the second year of production. In the previous fiscal year, its net income exceeded NZ$20 million ($13.4 million), and it is expected to exceed NZ$30 million ($20.1) this fiscal year.

"This is a big business," said John Tregidga, Mayor of the Hauraki District, to which Kerepehi belongs, "this is a labor-intensive industry."

"What the Chinese company is doing is not only helping of employment for our people, but also giving confidence to our community. So what we had in New Zealand, which is no different from Australia and some other countries, is that we have a lot of young people going into the big cities to get jobs," said John Tregidga.

"I've been working hard on getting companies to settle in, to attract young people to stay here and have their families and be a part of the culture and the community, and it's now being successful. We are seeing unemployment go down. We are increasing the GDP above the national average," Tregidga said louldly and proudly.

About 50 kms west away from Kerepehi, lays Yashili New Zealand Dairy Co, a leading producer of infant milk formula for the domestic market in China.

Linda, who worked here for Yashili for the last three and a half years, is a purchasing officer in Yashili.

"Before coming to work here, I worked in Auckland City, and it used to take me an hour and a half in the morning to go to work and an hour and a half every night to get home from work. Now I work locally. It takes me only five minutes to get to work and five minutes to get home. When they first started to develop down here, I can see the plant from my house and I leaned on my kitchen bench when they first started to count the ground, and I said to my husband: 'If they need a purchasing officer, the job is mine.'"

"When they advertised the job and I applied and I got the job. My daughter goes study in a local school and they have a very extensive robotics program. Yashili has donated money in that robotic program," said Linda.

The projects of Allied Faxi and Yashili in New Zealand are two microcosms of Sino-New Zealand dairy cooperation. Under the Belt and Road Initiative, New Zealand dairy products have become a major part of the dairy products exported to China. China's increasing dairy demand is having a strong pulling effect on New Zealand's dairy production.

New Zealand's exports of all goods and services to China were worth NZ$16.6 billion ($11.4 billion) for the year ending in September 2018, NZ$2.6 billion more than Australia and almost double the sales to the United States, Stats NZ said. Of all the goods exported to China, dairy products accounted for the largest proportion.