===>Volkswagen has big electric dreams in China[field]===>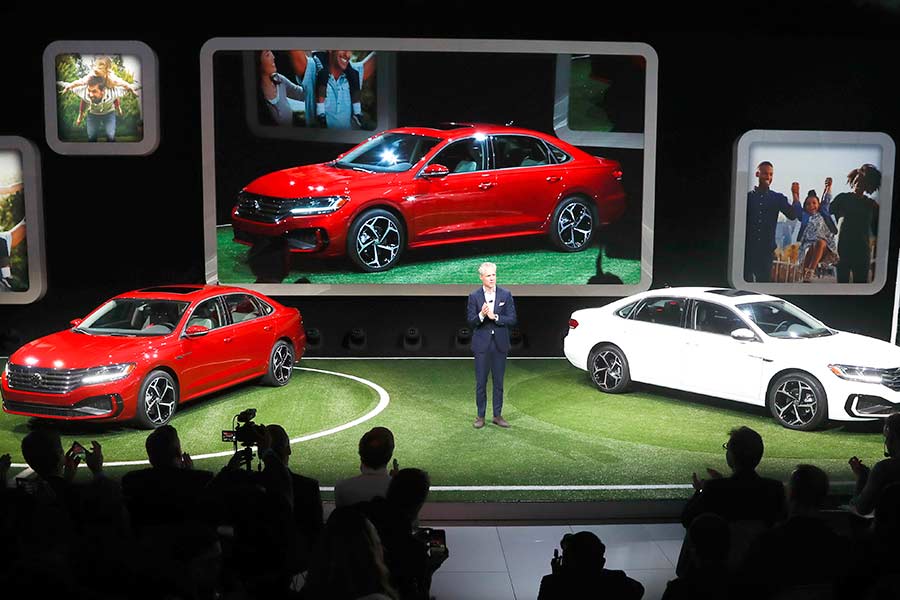 Scott Keogh, president and CEO of Volkswagen Group in America, introduces the 2020 Volkswagen Passat during media previews for the North American International Auto Show in Detroit on Monday. [Photo/Agencies]

Volkswagen signaled China will be an important market for its electric vehicle sales, amid plans to invest $34 billion in the segment over the next six years.

The German automaker said it is firmly focused on the future, and on selling electric cars to China and the United States, its biggest markets for electric cars.

Scott Keogh, CEO of Volkswagen America, said: "China is an extremely important market for electric vehicles. It's the number one market for electric vehicles and it's the number one market for overall sales. I think if you look at what the Chinese government is doing and proposing, it's looking forward to it with wanting to lead on electrification. It's going to be important."

However, he added, as the trade dispute between the US and China began to show signs of de-escalating last year, he hopes there will be a firm resolution to the trade tariffs in 2019.

"What to do with tariffs? They cause uncertainty and that causes unease. It causes unease with consumers. What do we want? We want maximum stability and to be clear we are not responsible for negotiating trade. We see the agreements and then we make our decisions based on that. So what we would love to have is a whole lot more stability."

Volkswagen's first US product in its electrification strategy is the Audi e-tron. It has also lined up the iCAN.

The automaker said it will begin to push sales of electric vehicles in the US from 2020 onward, while also remaining focused on zero emission mobility and on the Chinese market.

Dr Herbert Diess, chairman of Volkswagen AG and Volkswagen Passenger Cars, said: "China is really pioneering. It's the world's most important market for electric cars.

"The government policy is very much supporting electrification and as we are at a strong high market share in China-close to 18 percent-we will invest a lot into electric vehicles in China, which gives us a solid volume basis for the rest of the world."

Volkswagen said it saw growth in its overall sales last year because "it had listened".

Its best-selling cars in the US in 2018 were the Tiguan, a versatile mid-sized SUV, and the Atlas. The Jetta Sedan also drove sales, Keogh told the Detroit Auto show.

Volkswagen said that its "group set an all-time high", increasing its market share amid "economic uncertainty".

The automaker's newest products will include the new Passat and the five-seater Atlas Cross Sport, alongside electric cars. The electric vehicles in its portfolio include the ID Crozz, a compact SUV with the interior of a mid-sized SUV.

Most will be built in the US state of Tennessee, where it will open a second plant. The state has already seen $2.3 billion in investment from Volkswagen, with 3,500 jobs at its plant currently, and 12,000 jobs created in the state's auto sector.

Diess said: "Electric cars are gaining momentum in many areas of the world. The US has already become the second-largest market for electric cars after China.

"It is our objective at Volkswagen to become the most relevant player in this segment by 2025. But 2019 will be another year of challenges for us in the face of all the worries of global politics and economics."