===>Interest rates in focus amid the festival rush[field]===>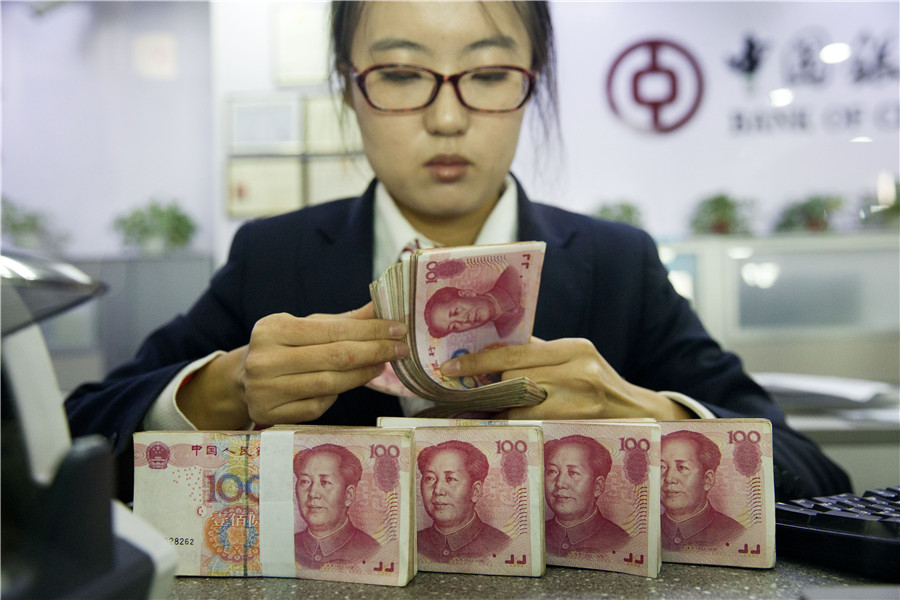 A bank employee counts cash in Taiyuan, capital of Shanxi province. [Photo by Zhang Yun/China News Service]

After suspending reverse repos for a week, China's central bank resumed them on Jan 14 in the hope of injecting more liquidity to prepare for Spring Festival on Feb 5.

The People's Bank of China said on its website that it will conduct 80 billion yuan ($11.8 billion) of seven-day reverse repos at an interest rate of 2.55 percent. It will also conduct another 20 billion yuan of 28-day reverse repos at 2.85 percent.

Previous reverse repos worth 80 billion yuan matured on Jan 14, indicating that the net market injection came in at 20 billion yuan.

The central bank said the Jan 14 operation was aimed at maintaining reasonable and sufficient liquidity in the banking system to offset the pressure exerted by the tax period, maturing of previous reverse repos and government bond payments.

Industry experts said that interest rates tend to rise significantly around the week-long Spring Festival holiday as traders compete for capital.

Previous experiences suggest liquidity shortage in the banking system may be around 2 trillion yuan to 2.5 trillion yuan.

But, since last year, interest rates in the money market have been sliding moderately, providing ample capital for banks.

The lowered required reserve ratio will help address some of the shortage, while the rest will be solved by reverse repos, according to experts.

The interest rate fluctuation at the beginning of this year was also narrower than that in 2018. The Shanghai Interbank Offered Rate has been under 2 percent for eight days in a row ever since the first trading day of this year. Although there is a possibility that the interest rate will go up before Spring Festival, any such rise would likely be limited.

"Given that capital demand rises every Spring Festival and tax payments will follow, interest rate will go up accordingly," said Ming Ming, chief analyst for fixed income at Citic Securities.

"The central bank's governor Yi Gang has reiterated recently that the total money supply would be maintained at a reasonable level and the structure would be further optimized. Liquidity should be maintained precisely to avoid a negative impact on the real economy resulting from rapid contraction of credit. But there should not be too much capital in the market which will hamper the structural deleveraging," he said.

Qu Qing, general manager of the asset management department of Hua Chuang Securities, said four major reasons will likely impact liquidity around Spring Festival.

One, monetary instruments or securities worth around 1 trillion yuan will mature this month. Most of the redemptions have already happened by Jan 15.

Two, this month-end is the deadline to pay various types of taxes. This could mean money available with people for spending will fall by some 1 trillion yuan as they would withdraw/transfer it to pay taxes, affecting liquidity.

Three, bank lending will have a bearing on liquidity. "As more pressure on economic growth is expected this year, more banks will provide lending in the early part of the year, to make profits sooner than later. This will result in a noticeable increase in required reserves," said Qu.

Four, debt issuance at provincial level is a factor too. "Local governments are likely to start issuing bonds in the early part of the year, which is also likely to exert pressure on liquidity before Spring Festival," said Qu.

Analysts from China International Capital Corporation Limited wrote in a note that the reverse repos will be able to give enough room to financial institutions in terms of providing support to the micro and small-sized enterprises and privately owned companies.